About artist Antony Zito, known for painting portraits and murals on the streets of the Lower East Side, NYC and in North Central Connecticut.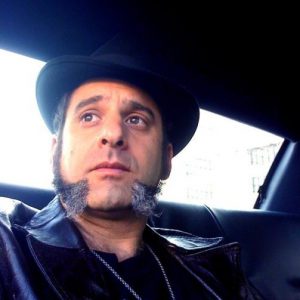 Hailing from the woods of Northern Connecticut, Zito has spent 30 years on New York's Lower East Side. Zito ran a gallery and portrait studio on Ludlow Street through 2006.  To New Yorkers, his portraits of the local characters illustrate a sweeping line through the 90s and 2000s through the present day East Village art scene. The New York Post has called his portrait paintings "sensual" and his renderings of people on recycled materials other than canvas have prompted The Village Voice to refer to him as "a master of the found object". His work has been exhibited and collected throughout the US, UK, Italy, France, Spain, Belgium and Japan. Zito's portraits and other artwork appear in Jim Jarmusch's films, "Coffee and Cigarettes" and "Broken Flowers". Zito is currently working on a documentary film on the legendary Mars Bar. In between his other projects, he teaches art out of his home in East Granby, Connecticut.
More about artist Antony Zito
Zito is a founding member and Director Emeritus of 4heads Non Profit, the New York City organization created by artists for artists, that has produced Governors Island Art Fair since 2008, and Portal art fair since 2016. Working with his co-founding partners, Nicole Laemmle and Jack Robinson, Zito has built a platform for exposing and developing the hidden talent scattered throughout our communities, the voices that create our very culture. Touted as New York's largest independent exhibition, GIAF opens the art season each September and welcomes over 50,000 visitors annually to see the work of 100 selected artists out in New York Harbor. Their new art fair, Portal, became an integral new satellite fair during Frieze New York, designed to wrap up the art season each May. Both Portal and GIAF are free and open to the public, as well as being free for the artists to exhibit in. 4heads raises its funds primarily through grants and partnerships, in order to ensure that they bring their events and programs to artists and the art-viewing public at no cost. Along with the two annual art fairs, 4heads produces an Artists in Residence studio program each summer on Governors Island, and Arts Education programs for youth from underserved communities in New York City. 4heads works with The Trust for Governors Island, National Parks Service, Lower Eastside Girls Club, The Chinatown Y, Two Bridges Community Center and many other collaborators and partners across the cultural landscape.