Displacement
Antony Zito – Then and Now
Mark Miller Gallery
92 Orchard Street, New York, New York.
Opening Reception Thursday November 13 from 6-9pm
Exhibition on view through December 4, 2014
Gallery Hours: Wed thru Sun 12-6pm
www.antonyzito.com
www.markmillergallery.com
With paintings incorporating collage and found materials created over the course of 20 years in Manhattan's Lower East Side, Antony Zito returns to his former home to discuss the dissolution of culture and the displacement of neighborhoods. In an exhibition anticipated by many long-time New Yorkers, Mark Miller Gallery hosts the first ever large-scale showing of Zito's work from across two decades in the East Village.

Zito's early portraits of friends and neighbors scribe a distinct line through the culture that once was the Lower East Side. This was his neighborhood and Zito painted its inhabitants onto the stuff they stepped over on the sidewalk, the displaced relics and detritus of the city. Zito's portrait work is known for the spark of life in the eyes of his subjects, iconic symbols of their time. Particularly striking is a painting of a young Italian woman, "Giovanna", who he was close with in the 90s. She gazes out, with porcelain skin and stark black, curly hair, from a blood-red background painted onto a wood panel. Her warm, melancholy gaze drifts out above the range of our own, across the weathered patina of the archtop frame, triggering empathy, describing the bohemian romance of the East Village at the end of the century. Included in the show, on loan from Jim Jarmusch, is Zito's portrait of "Lee Marvin" that was hung alongside The White Stripes in "Coffee and Cigarettes", the film which featured, among others, yet another displaced Lower East Side legend, the late and infamous, Taylor Mead.
His more recent paintings incorporate elements of collage, layering complex vignettes of implication, in stark juxtaposition to the pure clarity of his early portrait works. A collaged painting of "William Burroughs", weaves overlapping horizons and Bosch-ian symbology, and portrays W.S.B. engaging the darkness, swallowing whole the experience of existing. Other pieces in the show portray distorted historical figures, corrupt deities, angered innocents, grinning junkies, visionary explosions of cosmic energy, and Ellis Island arrivals from distant shores, each feeding, in their own way, into the reality of displacement.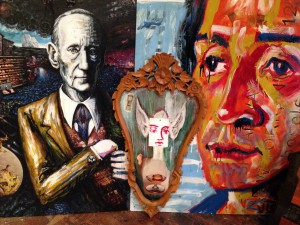 Zito has always curated exhibitions; at his gallery on Ludlow Street, in raw spaces and gritty dives like Mars Bar; as well as his "New York Rock Circus" at CBGBs and the Gas Station in the 90s. In 2008 his non-profit, 4heads, took over the decommissioned military houses on Governors Island to organize a massive annual exhibition. Named "Gems Among the Ruins", by The New York Times, 100 rooms of artwork, sprung up as if from nowhere, in the crumbling, dilapidated landmark buildings of the Governors Island Art Fair.
Raised in rural New England, Antony Zito came to NYC in 1992 and started showing his work at ad-hoc galleries, cafes, bars, and squats in the East Village. After 9/11, when flight out of Manhattan was all the rage, Zito rented a small storefront on Ludlow Street and opened Zito Studio Gallery. It was an old-world portrait shop serving the community with exhibitions, on-the-spot portrait paintings, art classes, performances and a couch for people to shoot the shit, play records or take a nap. Characters of all ages came through Zito's place; luminaries of the Gotham underbelly from Michael Musto and Jim Jarmusch, to Clayton Patterson and Penny Arcade; the artists and punks, the local Chinese and Latinos, the old Yiddish guys; even the yuppies, bar owners, restaurateurs, and new hotel developers, who had already begun reinventing the neighborhood, came in to Zito's gallery to check their pulse. It was a time when the upswell of new money and the change it was bringing to the neighborhood had well begun. When Zito lost his lease in 2006, he was not the only one being pushed out.
"A monstrous force had hold of the neighborhood," Zito writes, "and we saw the systematic proliferation of ancient tenement buildings, with carved wood storefronts torn out, replaced by flimsy aluminum and glass, faceless, monumentally aloof facades. We started noticing the blocks felt different, like it was somewhere else, someplace less personal, more corporate. They'd come for what we built just to tear it down and replace it with what they had where they were before… we essentially felt powerless to their odd brand of psychosis."
At the opening reception and during the run of the exhibition, Antony Zito will be in the gallery painting live portraits on found objects, objects that the public will be asked to bring in as a product of their own adventures. Zito will paint them then and there, like he did on Ludlow Street, a decade earlier.
For more information contact: 212.673.9074
Media contact: Jaselyn Blanchard 917 623 4730 or [email protected]